Custom Glazed Pieces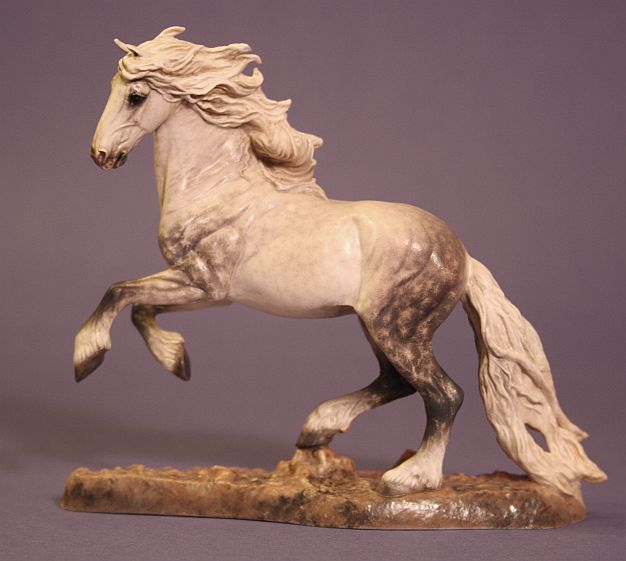 This is the large Little Bit scale David Meyer cantering "Friesian" sculpture produced in fine English bone china by Alchemy Earthworks, a now defunct subcompany of Alchemy Ceramics of England. I am given to understand that very few of this piece were produced, less than 20 - and that breakage of the pieces from their bases has been an issue. Therefor I have claybody customized this piece by adding earthenware ceramic to thicken up the legs and to better connect the piece to it's base with additional support under the raised back leg. I then went on to add and redetail the mane and tail and offside haunch in order to make this piece more suitable for the new breed I was aiming for; a Warlander stallion!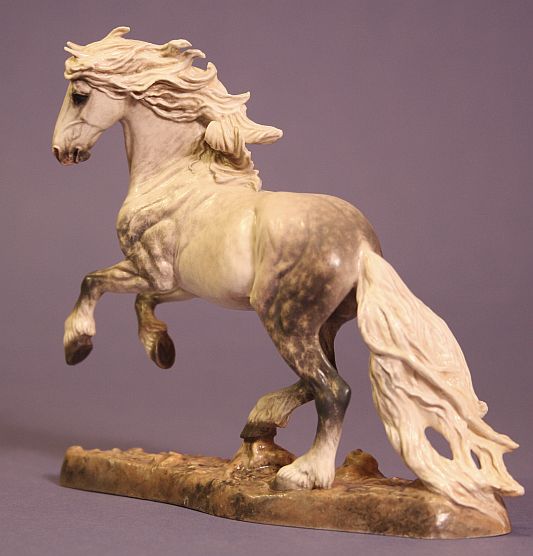 A Warlander combinines both Friesian and Andalusian blood to form a new, modern sport breed. This beautiful piece has been finished to one of my classic dappled greys, this one soft and retaining a faint hint of rosy brown in his haunches. The mane and tail have been multi-hued with detail ranging from bright white to soft cream, warm greys, yellows and pale golden orangy brown - especially to the lower portion of the tail to give a stained pasture look. Overall the color with the base is aimed for an Old World look to remind us that such horses, though a new breed now, were once an old type in Medeaval Europe. His feathers are softly detailed with individual hairs suggested, depigmentation starting on his nose and genitalia, and completed with a satin finish. The piece also sports a very faint star with hint of hair pattern ticking out from it, multihued dark brown eyes, and a pink snip blending into the depigmented upper lip. The finished piece measures 4 and 5/16ths inches tall by 5 and 1/4 inches long, including the base.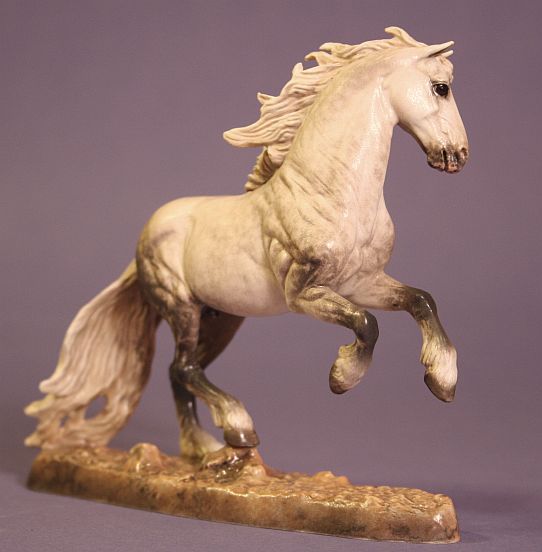 Alas, in what was supposed to be the final glaze firing, the piece cracked. :( He cracked through his supporting left back leg and up on his right haunch. I was able to make repairs using ceramic media and refire him for an almost perfect repair. Unfortunately, there was still a very faint hint of the tiny crack on his upper right haunch which I have had to touch up with non-fired ceramic restoration techniques. The flaw is now completely invisiable and he is totally show competetive.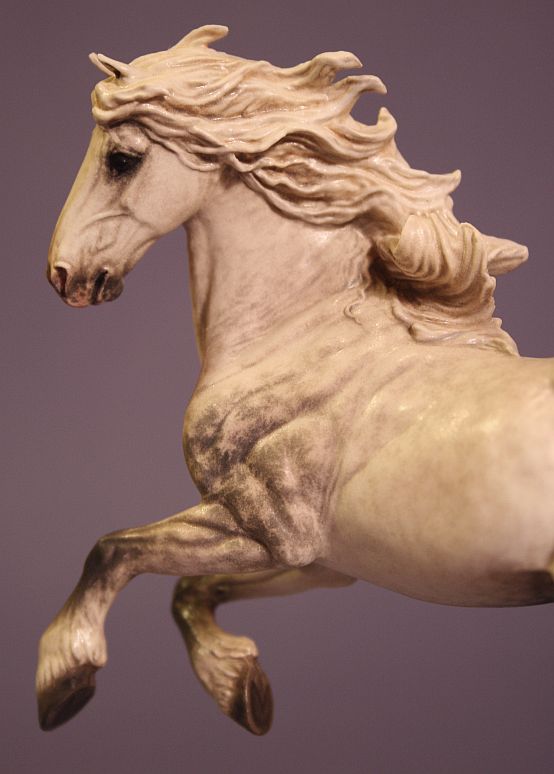 Still, I am -extremely- disapointed that I could not offer up a totally flawless piece for the NAN auction. This concern and his repair are what have delayed his listing so long. NOT donating anything at all seems even worse! So after long consideration, and possible substitution with a lesser piece, I have decided to keep to my original submission but with a very low reserve. This piece will come with detailed documentation and a limited life time warranty against any future degradation or repairs, if ever needed. This warranty is transferable should the piece later be resold. My apologies that his photos do not do him justice but family issues keep me at the hospital more than in my studio, right now.
---
This website created by:jennifer's imagination