"Cayuse Excuse!" painted by Paige Easley Patty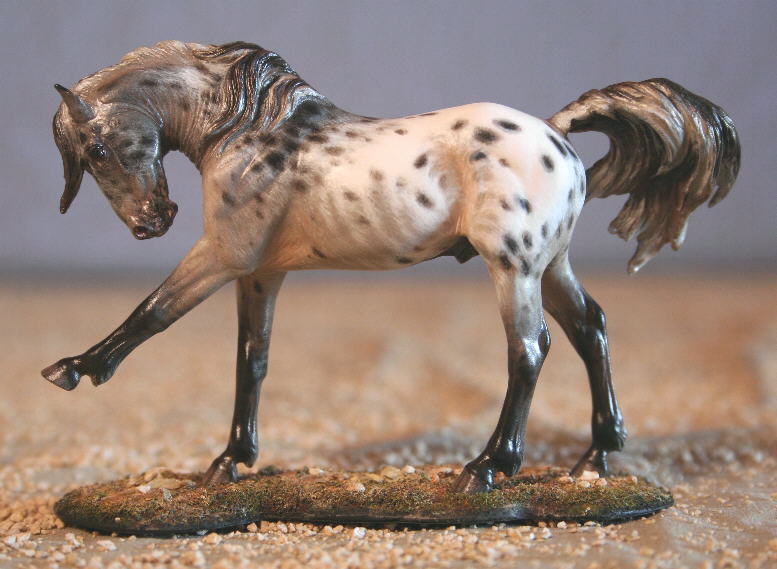 This is the Sarah Rose mini resin called "Cheveyo", a very popular limited release small sculpture of a fiesty mustang stallion. Standing 2 and 2/4 inches tall by about 4 inches long, I have mounted him onto a landscaped base for greater stability, and lowered his tail from it's original high position. He has been painted by myself; Paige Easley Patty of Hanblechia Studio. Completed just this week, here is a brand new appaloosa stallion ready to qualify for NAN 2007! If you have any difficulty viewing these photos, please hit the refresh button on your browser.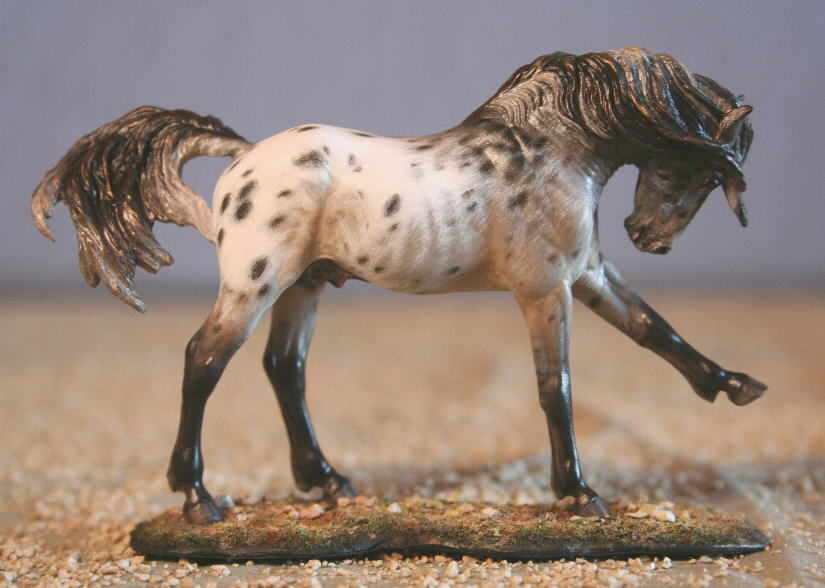 Packed with detail, this piece has been finished using acrylic airbrush, dry pastel, colored pencils, pearl-ex powder, lots of hand painted acrylic detailing, and layers of Krylon matte sealer. Such detailing includes a multi-hued mane and tail with hints of individual strands, multi-colored eyes, careful mottling around his eyes, nose, and genetalia, striped hooves, hair pattern detailing, and lots of snotty character. :} I would really like this piece to go to a live showing home who will see that he gets to NAN if he is qualified timely, though it is not a requirement of this auction.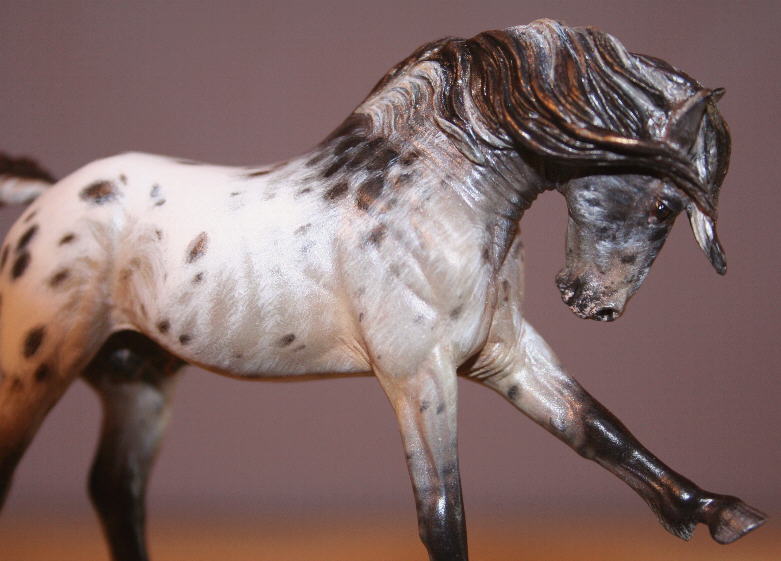 This grulla appaloosa stallion has hints of faintly warmer areas of pangare around his muzzle, behind his elbows, and in his flanks making a nice subtle contrast to the silvery grey base color. Although his dorsal stripe is obscured, and his spots have taken up the sooty darkness, there remains a hint of leg barring that can be seen in several of these photos. For color match, perhaps the first photo is the closest to his true coloring. Additional photos of my work may be viewed by clicking on the "me" icon next to my seller ID. All of my work comes with a limited life time warranty for free minor repairs if ever needed. Additionally I have a satisfaction guarantee or you may return this piece (fully insured) within 7 days for a full refund minus only shippping charges, Ebay fees, and Paypal fees as applicable.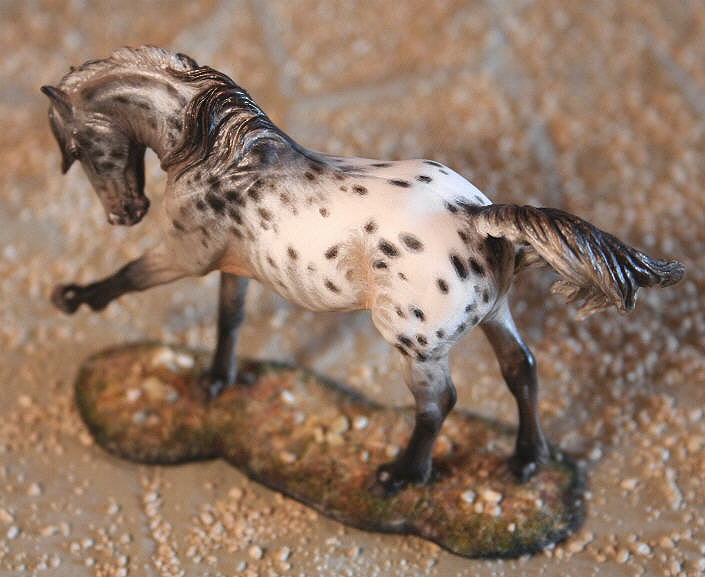 Shipping within the USA is $15.00 for Priority Mail, fully insured with signature confirmation. Airmail insured is available for overseas shipping but you'll need to email me for a quote. Any customs duties, VAT charges, etc are the sole responsibility of the buyer and I will not falsely mark his value on customs forms. I do NOT ship UPS or FedEx and this piece will require a signature. There is a reserve of only $750.00 (US dollars) on this auction, a reasonable amount considering the resale value of my painted minis on the secondary market in recent years have often gone over a grand each. Any MINOR alterations to this piece that the auction winner desires may be done at no extra charge, such as making some of his spots lighter like his base color, or adding white flash markings to his cannon bone areas, or a white sock or snip, etc.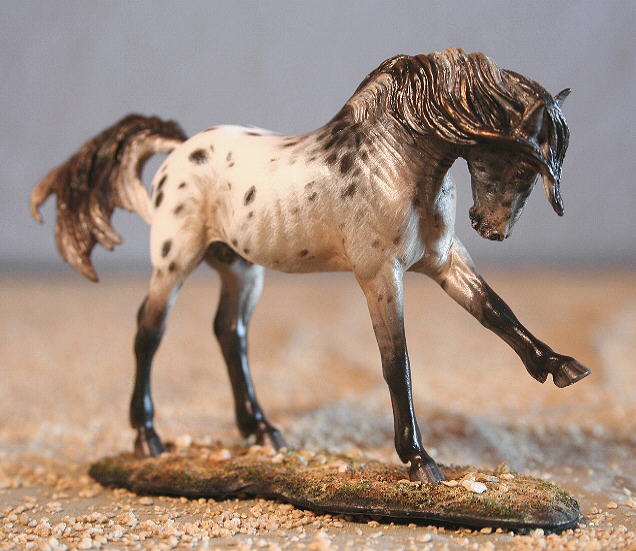 Payment is to be made in full within 7 days of auction closing via USPS money order and I will ship once that payment has been cleared by my bank as being legitimate and not a fake. I will accept payment via PayPal, and credit card payments via Paypal, only from those who have purchased work from me in the past -OR- have a nice long record of only positive ebay feedback. If you want to pay by Paypal and are not certain if you qualify by my standards, PLEASE EMAIL me before sending payment. I retain the right to refuse payment by Paypal from anyone with questionable or low ebay feedback, has a non-confirmed shipping address, or otherwise does not fit PayPal's requirements for their Seller Protection Policy. Buyers from countries that are not covered by PayPal's Seller Protection Policy may not send payment via Paypal, rather send an international bank draft. Thank you and good luck if you choose to bid!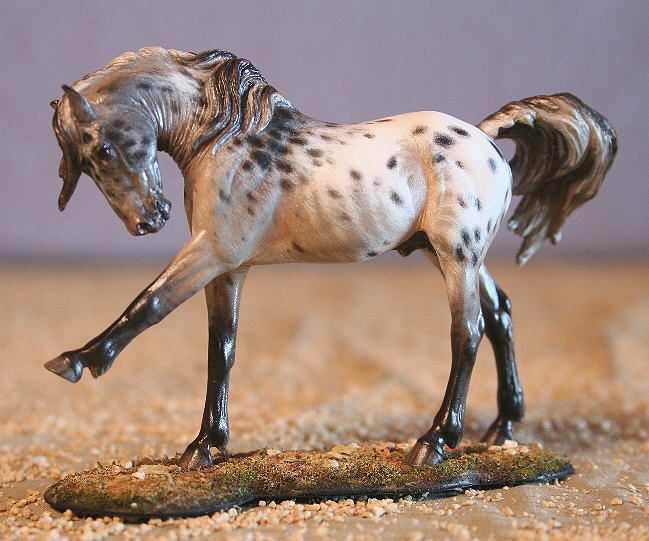 ---
This website created by:jennifer's imagination