Equine Sculptures- Hard To Catch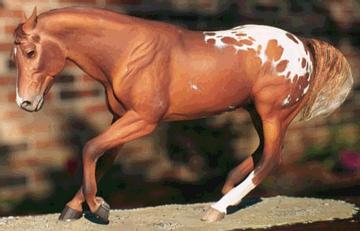 Sculpted in 1994, "Hard to Catch" was my first 1/10th scale equine sculpture to be cast as a limited edition resin. This 'Cutting Stock Horse' edition was originally intended to be a run of 50 pieces cast by the Plaster Factory in late 1994, early 1995. Due to very poor casting quality, the edition was reduced to only a run of 10 pieces. Today, 9 of the 10 have been completed and 8 of them still exist.
The Palomino, #2/10 was destroyed during return shipping from the 1996 Draft Horse Classic Juried Equine & Western Art Show after winning first place in the 'other media' sculpting catagory. Each of the surviving 8 have been completed by myself to custom ordered colors as requested by the clients who bought them. Several pieces of the edition also feature custom resculpting or a hair mane and tail as shown above. At least two of this small edition reside in collections in Germany.
The few remaining casts of poor quality, unpainted, were sold on ebay on clearance and since have been painted by other finishing artists. I believe there were four of these raw casts so distributed.
---
This website created by:jennifer's imagination